It has come to our attention that someone has been impersonating Fort Worth Coin Company and is soliciting business in Malaysia, China, and other countries. Be advised that Fort Worth Coin Company ONLY does business within the United States.
Kitco Realtime Spot Prices
Coin and Precious Metal Dealer
---
Fort Worth Coin Company is a full-service coin shop. We maintain an extensive inventory of collectible coins, paper currency, supplies, and precious metals. Whether you are looking for a rare date coin or asset diversification through the purchase of precious metals, our staff is here to assist you.
Collectible Coins
We offer:
U.S. coins of all denominations, including classic old gold; Morgan and Peace silver dollars; Bust, Seated Liberty, Barber, and more recent coinage; proof and mint sets; proof American Silver Eagles; and classic and modern commemoratives.
International Coins from around the world.
U.S. large and small size paper money, including silver certificates, gold certificates, legal tender notes, National Bank Notes, fractional currency, Confederate paper money, and military payment certificates.
Precious Metal Bullion
Fort Worth Coin offers a variety of bullion products, such as gold, silver, and platinum bullion coins, including American Eagles, Canadian Maple Leaf, and South African Krugerrands.
We also offer privately minted silver rounds and bars as well as 90% silver U.S. dimes, quarters, and half dollars.
Selling to Us
For customers who wish to sell their collections, Fort Worth Coin Company makes offers to purchase collections at our store at no charge. For large collections, it is customary to provide an offer on a sampling of the collection to ensure that pricing is acceptable for the customer's expectations before proceeding with an evaluation of the entire collection. We look forward to making an offer on your collection.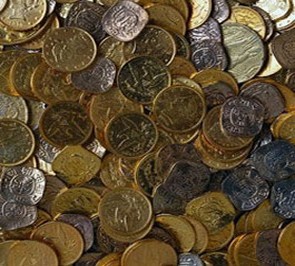 About Us
Fort Worth Coin Company (FWCC) is the area's premier precious metal and rare coin dealer. We offer our customers a dedicated and friendly service. Our company is happy to help you whether you are looking to purchase or sell your Gold or Silver, including any silver or gold jewelry, sell or add to your existing coin collection, or start a new collection.
Since 1973, homegrown Texas pride has carefully fostered our growing precious metals and rare coin operation. While incorporating innovative business strategies, we have successfully maintained a practical, proven approach to conducting business - your word is your bond.